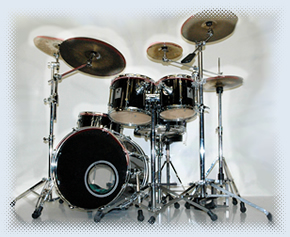 Do you love percussion instruments? Do you wish you could be a rock star breaking out a sweet drum solo? Then you've come to the right place! Lots of people like banging the drums from time to time, especially with games like Rock Band and Guitar Hero World Tour that have drum kits allowing people to experience what it's like to be a drummer.
Beating on some drums is a lot of fun and a nice stress reliever, but not everyone has the money or the space for a full drum set. Virtual drums are great for that reason, and there's no need to buy drum software when there's plenty of free drum games you can play online with Flash. We've found some of the best virtual drum simulations online for you to play and compiled them into one list.
Buckle's Virtual Drum Set is one of the best online virtual drum games. It uses a photo of real drum set that moves when you drum it. You can use your mouse or the number keys to drum, and the best part is that this simulation even has preset drum rhythms that you can hear, watch and try to emulate.
Roof Top Rollers has a 13 piece drum set that you play as a black blob-like guy with a stick on his head. The graphics use an awesome cartoon style, and the game play is easy: just click on the virtual drum. You even get to play other instruments in a full band, so your beat will go along with a sweet funky tune.




Drums Online Player has a nicely drawn 9 piece drum set that you can play with your mouse and/or your keyboard for a more complex drum rhythm. You can open and close the hi-hat and can even configure the key controls to suite your style.
The Virtual Drum Kit lets you play with your mouse or keyboard, and has 3 different sound maps for its 11 piece kit. You can record 2 tracks and play them back and even loop them. Press the wrench icon to change the background color. Made by MediaGeezer.com.
This game collection brought to you by
EntropicOrder
, online game developer and creator of
Sik Trix BMX
and
Rooftop Skater
.
Check out our other great games.
Drums image from www.sxc.hu/profile/vidici