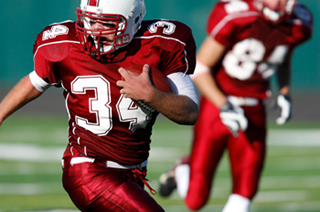 Can't get enough football? Have you watched all the NFL and college football games on TV and still want more? Do you love playing Madden or NCAA Football games? Remember the original Tecmo Bowl for NES? We've found all the best American football games that you can play online for free right in your browser and we've put them all in one place for you. Score some touchdowns, kick field goals, hold an impenetrable defense and send the other team home in tears as you claim your victory and send the crowd into a frenzy on your computer.
Do you have enough skill to drive the ball down the field, dodge tackles or to throw the perfect pass, all while keeping your cool while a million fans watch your every move? Put on your jersey and prove it in these quick and easy online football games. It's fun to play and it's free!
Chalkboard Football puts you right into the action. You pick a play from the playbook, click on your quarterback, and then the play starts and you have to remember where each player was supposed to run to as you click on the field to pass the ball. Think quickly before you get sacked! A top-down 2D game with red helmets versus blue helmets. This game requires the free Adobe Shockwave Player.
Quick Hit Football is an authentic fantasy football strategy game where you manage team rosters, train your players, call plays and manage the clock in the game and more. As you play you can earn points to level up your team or your coach. You can even play live against other people over the internet. Features 3D rendered graphics. Requires Adobe Flash player and a free account.
Two Minute Football 3D 2010 lets you control players (represented as helmets) with the keyboard and mouse in a true 3D engine. Use the mouse to look around, WASD keys to move around and mouse click on a receiver to throw him the ball.
Tecmo Super Bowl - Play the classic 8-bit Nintendo game right in your browser and revive those childhood memories of blowing the dust out of game cartridges and 2-button controls. The emulator requires Java, but it loads up very quickly and runs smoothly.
If you like extreme sports, you might like our EntropicOrder Original Game
Sik Trix BMX
.