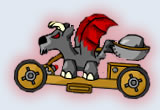 Survive the waves of axe-throwing, shield-wielding, catapult-riding, balloon-bombing sheep, and you will be lucky enough just to *see* the archangel sheep boss, let alone defeat her and obtain her coveted halo! If you are one of the talented who can beat her, you will unlock powerful modes that let you have unlimited catapult ammo, allow you to ride in the practically unstoppable air balloon bomber, or obtain complete invincibility! Each consecutive time that you beat the game unlocks another mode.
How to Play
Begin by pressing Play in the upper right of the game once it has loaded.
Press 'Z' to attack, 'X' to jump/fly and Left/Right arrow keys to move.
Your flame power in the upper left corner is your life bar but it's also your magic power. Be careful not to exhaust it or you will be powerless against your enemies! Replenish your power by grabbing sheep's life energy as it leaves their body but make sure to catch it before it escapes to the other side. Passing the various torches along the way will also completely refill your fire power.
Last long enough to pass the blue flag so that you can resume from this save point later on if you die.
Enter Endurance Mode via the lower right button on the game menu to test your skills gained in story mode and see how long you can last amidst the fast-paced onslaught of enemies.
Game Tips
Armored sheep are formidable opponents, but fear not! If you move back just as they attack, you will have a window of opportunity to strike! When this opportunity arises, do not let up as he will quickly recover. Lay as many fireballs into him as you can when he is vulnerable and he will surely fall.
Catapults are defeated by aiming fireballs right at the small wooden shield in front of the sheep (they've fortified the wheels so ground attacks are useless). Destroy the shield and the sheep rider and you will be able to take control of this siege weapon and any remaining rocks it has to your advantage by jumping onto the middle of the catapult!
Jump to avoid incoming projectile attacks, and press 'X' mid-jump to get an extra evasive edge by flying higher. However, using your wings consumes fire power, so use sparingly.
Even though keeping a safe distance from your opponents helps you prepare for their attacks, you will want to be close enough to grab their soul when they fall because it escapes quickly.
Light up the balloon rider with fireballs from a far distance because once he gets close enough to drop a bomb he will rise to an unreachable height. Make sure to jump back, fly, do whatever it takes to avoid the bombs as they are the most devastating attack in the game!
Please do not submit your scores as this functionality is currently out of service.
Fun Facts
Most of the game's sounds were made using vocal effects.
A movie trailer for Demonic Goat 2 was made in 2002. Kenshino had tons of ideas for the sequel. Maybe one day it will come to life.
Above is a fun Photoshopped image of "the real life Demonic Goat".
Like this game? Then you might like Sik Trix BMX
Play more games from the creator of Demonic Goat